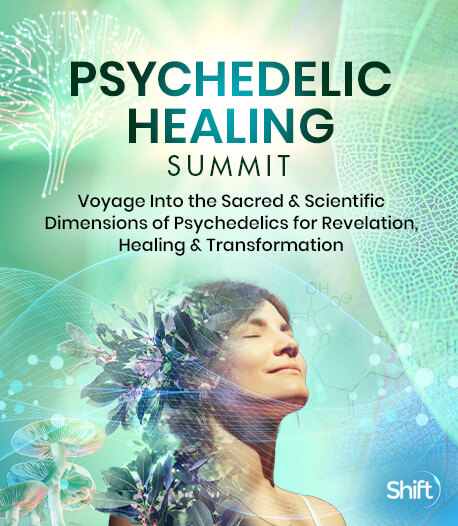 Program & Replays
Sacred Sound and Spiritual Healing: The Role of the Biofield
Broadcast on May 10, 2023
With Dr. Shamini Jain
Hosted by Joe Tafur, MD
Is there a science behind the energetic and spiritual dimensions that we come into contact with when we take plant medicines? Do our thoughts really create reality? In this illuminating discussion, biofield science and healing pioneer and teacher Dr. Shamini Jain will explore the ancient understandings along with modern science of the power of vibration, with a special focus on the power of sacred sound.
In this session, you'll discover:
How the real, published science of vibration is showing us how we can actually heal right down to our cells
Vedic and Tantric traditions described sound as consciousness and a tool for spiritual liberation
Inner sound-making tools to balance and expand your energy
The opinions expressed here are those of the author/presenter and are not representative of Shift Network employees, customers, or other presenters.
Love this Speaker and What They Have to Say?
It can be yours to keep... forever.
Get lifetime access to the summit and bonus material by upgrading now!
UPGRADE HERE
Dr. Shamini Jain
Founder and CEO of the Consciousness and Healing Initiative
Dr. Shamini Jain is a scientist, singer, social profit leader, and transformational teacher. She is founder and CEO of the Consciousness and Healing Initiative (CHI), a nonprofit collaborative accelerator that connects scientists, health practitioners, educators, and artists to help lead humanity to heal ourselves. 
CHI was formed through Shamini's deep desire to bring key stakeholders together to create a coherent and effective movement to move us beyond models of "disease thinking," and into the age of whole-person healing and personal and societal empowerment.
Shamini is a student of Reverend Rosalyn Bruyere in the healing arts, and a student of the Divine Feminine. Her award-winning book, Healing Ourselves: Biofield Science and the Future of Health, has been hailed as a breakthrough book in healing by leaders in the field, including Deepak Chopra, Cyndi Dale, Donna Eden, Eileen McKusick, and many more. 
A seasoned singer with experience in performance genres from bel canto and musical theater to classic rock, folk, and heavy metal, Shamini's debut album, "Kaliyuga Blues," will be released in late 2023. Shamini integrates her background in vocal performance, clinical psychology, psychoneuroimmunology, and biofield and spiritual healing to teach people how they can best heal themselves and live with joy and spiritual alignment. 
Shamini, a member of the Evolutionary Leaders Circle, teaches regularly at leading retreat centers, including Esalen, Sivananda Ashram, Omega, and more. Her research has been featured in TIME, US News and World Report, and on CNN, Good Day LA, and more. 
She shares research on the science and practice of healing in diverse venues, including TEDx, major universities and medical centers, health-related conferences, and corporations. She also serves as a board member and scientific advisor for several nonprofit and social benefit companies.