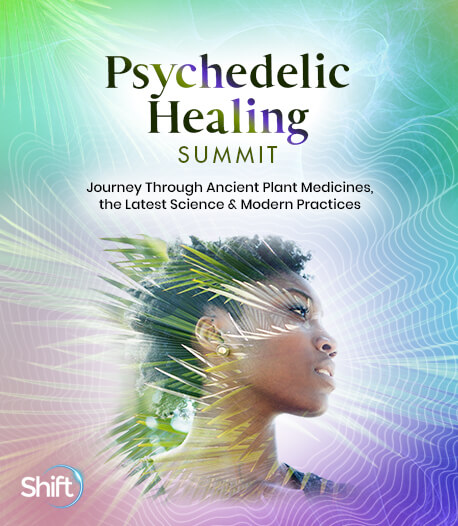 The live summit is over. However, you can still get the recordings and transcripts of all the summit sessions. Upgrade to receive unlimited access to the inspiration, resources, and powerful practices presented by the experts featured in the Psychedelic Healing Summit series.
In this empowering series, you'll embark on a virtual retreat-style journey that blends science, education, medicinal practices, Indigenous ceremonies, rituals, and at-home practices you can integrate into your daily life — without ingesting medicine.
Psychedelic healing is an emerging mental health field fusing practical treatment with expanding consciousness. It's one of the pathways that people around the world are exploring to release critical voices, heal trauma, and hold space for inner peace, wonder, and oneness with the universe.
The Psychedelic Healing Summit series is your source for trusted information on this rapidly changing approach to mental wellness and spiritual connectedness – bringing together leading-edge science and research with sacred wisdom passed down from generations by Indigeous elders and knowledge keepers.
Each module in this extraordinary series has been thoughtfully designed to give you a rich understanding of the emerging world of psychedelic-informed healing, from its origins through at-home integration tools to support your journey.
Here's what you'll experience in your 4-part journey:
Module 1: Foundations — History, Lineages, and Modern Science
Discover how ancient cultures have long used sacred plant medicines as powerful tools for healing and initiation – and understand how these teachings inform modern practices, such as psychedelic-assisted therapy.
You'll understand how psychedelics are poised to shift mental health treatments as they move from the underground to legal treatments thanks to pioneering scientific research.
Module 2: Preparation — Foundations and Practices
Is microdosing the new path to healing? Find out in module 2, which offers fundamentals for the responsible use of sacred plants and psychedelics across traditions — from the Amazon to the modern clinic.
You'll discover ways to become your own best healer, explore psychedelics as an ecosystem, and understand how to respectfully connect with the wisdom of sacred plants — from living through dying… and beyond.
Module 3: Ceremony — Rituals and Music
Experience a range of deep transformational practices and sacred rituals across lineages and ancestral heritages to expand your consciousness, promote inner and outer healing, and awaken creativity.
Plus, learn to safely connect with the wisdom of sacred plants — without needing to ingest any medicine — through prayer, ceremony, integration practices, and sessions that bridge modern techniques with ancient wisdom traditions.
Module 4: Integration — Embodiment Practices
Explore the role of sacred plants and psychedelics in dreams, breathwork, meditation, movement, and more as you discover tools for integrating your experiences into your daily life.
In this final module, you'll learn how to bring the wisdom of sacred medicine out into the world, including the emerging field of Ketamine-assisted psychedelic therapy and the role integration plays in helping to heal depression and anxiety.
Please plan to have some colored art supplies (e.g., chalk, oil pastels, watercolor crayons) and paper.
Enjoy this special series!